2022 SOCAL MASTERS TOURNAMENT
OPEN TO ALL CURRENT USBC MEMBERS
Sponsored by

Sunday, September 25, 2022
CAL BOWL
Lakewood
$5,550 total prize money awarded
CONGRATULATIONS CHAMPION
ARI WILSON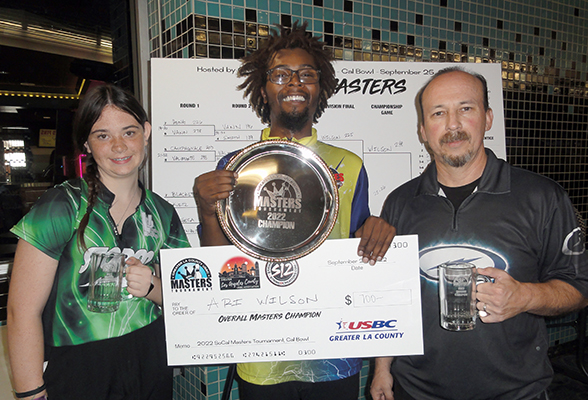 Youth Danica Roberts 2nd place (Apprentice Champion), Ari Wilson Overall Masters Champion;
Leonard Ruiz, Jr 3rd place (Sr Masters Champion)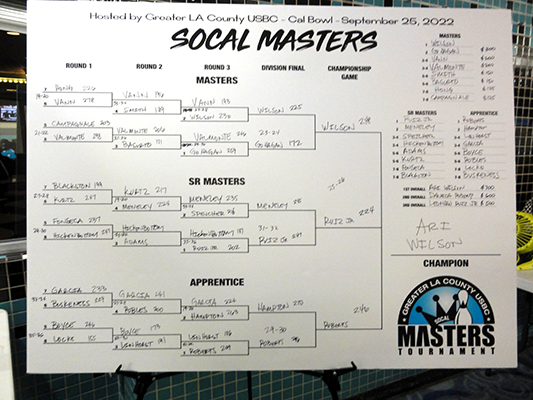 Masters Qualifying
Master Final Payout
PRIZE MONEY AWARDED TO THE TOP 8 IN EACH DIVISION
**Divisions may be consolidated depending on the number of entries per division.
Any division changes will be made prior to the start of competition.
**THREE DIVISIONS:
• MASTERS (SCRATCH*)
• SENIOR MASTERS (SCRATCH) Aged 50+
• APPRENTICE (HANDICAP*) 204 Average & Under; Hdcp: 90% of 205
*Youth may participate, provided a USBC Scholarship waiver accompanies entry.

---
QUALIFYING: Six games total, moving pairs each game. 
BRACKET FINALS: The top eight bowlers in each division will advance to the Finals bracket. Champions will be crowned in each division.
OVERALL FINALS: The three champions will bowl a one game match to determine the overall champion of the tournament. Handicap will apply for the Handicap champion.
---
Contact Andre at (323) 252-7904 or
Email: [email protected] with any questions.