IMPORTANT BOWLING BALL INFORMATION:
Please review the list of USBC non-conforming bowling balls to avoid league forfeitures or being disqualified in tournaments.
Click here for list…
---
NEW LOCAL AWARDS ARE HERE!
League Secretaries have been emailed the new award form. Please submit your league's award and enjoy our new awards!
50 pins over average game

100 pins over average game

100 pins over average series

700 series for Ladies

299 game

300 game

800 series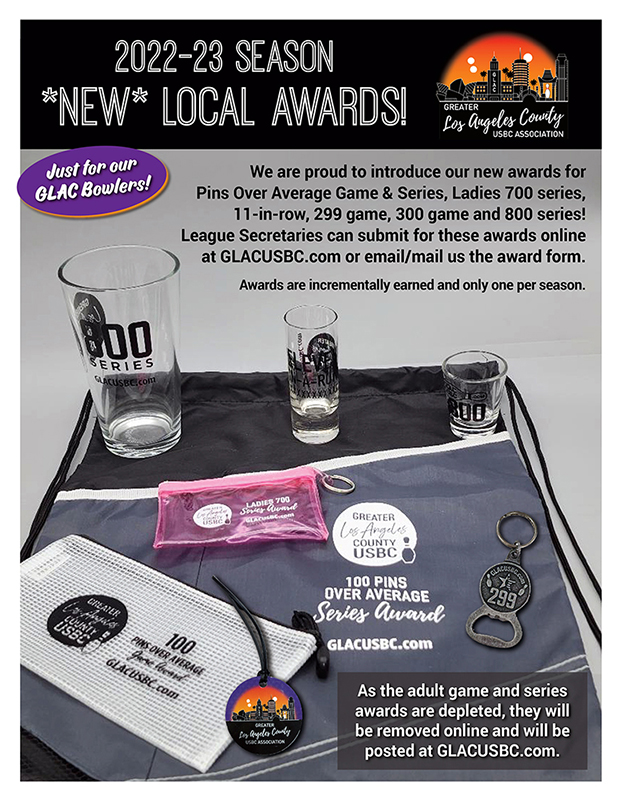 ---
2021-22 GLAC USBC AVERAGE BOOKS are now available
Download the book here or order a printed book for $25. We can mail the book for free. Email us at [email protected] if you would like to purchase a book. You can pay with cash, check or zelle. 
---
GLAC USBC YOUTH CHAMPIONSHIPS
Guaranteed Scholarships to be awarded!
SANTA CLARITA LANES
TEAM
KEYSTONE LANES
DOUBLES / SINGLES

---
SANTA CLARITA LANES
TEAM:
Saturday, April 1, 2023 (2pm)
Sunday, April 16, 2023 (9am)
KEYSTONE LANES
DOUBLES / SINGLES:
Sunday, April 2, 2023 (12pm)
Saturday, April 15, 2023 (1pm)
---

Win a FREE Entry into GLAC USBC Tournaments!
---
Saturday, May 13, 2023 at 12:00pm
KEYSTONE LANES
ENTRY FORM COMING SOON!
---
May 13, 2023
KEYSTONE LANES
4:00pm
---

Sat, July 15, 2023 at 10am
CAL BOWL
Doubles format
Click here for details
---

---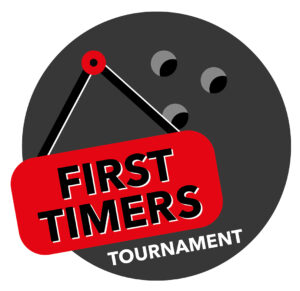 First time Joining a League?
We are welcoming new bowlers in a big way! All brand new first time USBC adult members for the 2022-23 season are cordially invited to bowl in our First Timers Tournament! FREE prize money will be awarded. $500 up for grabs for First Place (based on 50 entries)!
Click here for details…
Saturday, July 15, 2023 at 1:00pm
CAL BOWL
---
ATTENTION LEAGUE SECRETARIES…
Visit the

 

LEAGUE SECRETARY INFO

page for league documentations (league app, dues worksheets). Also, let us know if you need pre-printed cards for your league.
Remember that all bowlers in your league must submit a USBC membership application card – SUBS INCLUDED! Failure to certify a bowler will result in league game forfeitures or possible suspension. Also DON'T hold on to the membership cards – You may cost someone their 300 or 800 honor award!

All membership expires July 31. Summer leagues with current members may extend until October 1 for award purposes only. 

Submit ONE check or money order payment with each submission. Only personal checks from bowling centers or League Secretaries will be accepted. Make payment out to "GLAC USBC".
Rulebooks are no longer printed and can be downloaded at BOWL.com.

The minimum age to join an adult league is 18

Birth dates are required on the membership cards in order to process
---
REMINDERS…
Reminder… Senior membership pricing for $25 are for those bowling in "SENIOR" certified league only. If a senior membership bowler bowls as a regular or substitute in a "Standard" league, they must pay the difference to upgrade to Standard membership. If the senior bowler bowls in another senior league, then they are fine with their senior membership.
New Rules:
The minimum age for adult leagues is

18

(Rule 16)

Only a dry towel may be used to clean bowling balls during league and tournaments

Check the list of USBC non-conforming bowling balls to avoid league forfeitures or being disqualified in tournaments.

Click here for list…


---

GLAC USBC Annual Meeting – July 9, 2022 (Zoom)

Thank you to those that attended our meeting 

For the 2022-23 season starting on August 1,

Adult membership card pricing will be $30

and

Senior membership

from senior league will be

$25

(more details will be in the winter kits)
New tournaments and programs will also be rolled for the new season as well as enhanced local awards… Stay tuned!

---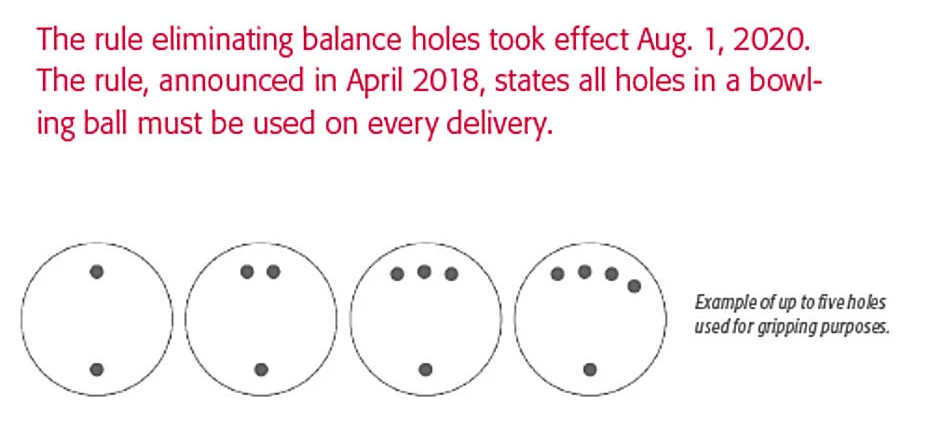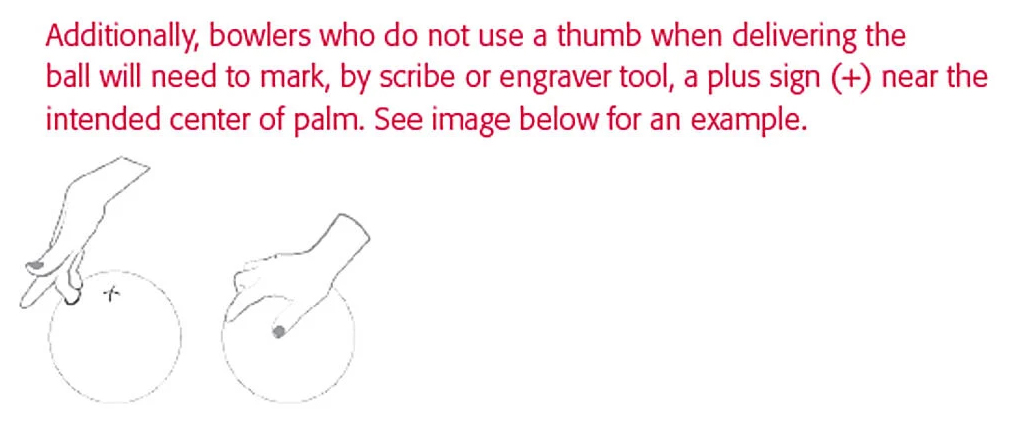 OUT OF SPECIFICATION. If it is found that a bowling ball is or is suspected of being out of specification, the bowler must be told by the tournament or league official to remove the ball from competition until it can be measured. If the ball is not removed or the bowler had prior knowledge of such, games are subject to forfeiture or disqualification. If the bowler had no prior knowledge, the games would not be subject to forfeiture, but the ball would not be able to be used until it meets specifications.
How is this rule enforceable and what is the penalty for those who don't comply? Once it is discovered that a bowler is using equipment which is not within specifications, the ball must be removed from competition and corrected before it can be used during certified competition. If the bowler uses a ball that is non-conforming with knowledge that it is out of specification, the scores are subject to forfeiture.
---
PRESIDENT'S MESSAGE

Welcome to the 2022-23 Season! 
We have added many new things this season. We have three new events: Tournament of Champions, First Timer Tournament and the Rollin' to the Top youth tournament. We also have launched some new local awards as well!
Our focus is still on our youth and continuing to re-build your youth programs. Help us to support the active youth programs that we have as they are not only the future of our sport, they are also the future of our society. We also welcome increased adult participation and involvement in our youth committee to raise funds to provide additional scholarship opportunities.
The Board of Directors and I will continue to work hard to provide the best product for the bowlers of the Greater LA County USBC, however if you have any questions, comments or suggestions, please do not hesitate to contact us as we would love to hear from you. 
The Greater LA County USBC is the largest local association in the state and our goal is to keep growing while we battle the loss of some of our centers. Thank you for your support and for helping to keep bowling alive in SoCal!!
Thank You,
Andre