PRIZE MONEY AWARDED TO THE
TOP 8 IN EACH DIVISION
2023 SOCAL MASTERS TOURNAMENT
OPEN TO ALL CURRENT USBC MEMBERS
Sponsored by

Sunday, September 24, 2023

CAL BOWL
Lakewood
CONGRATULATIONS CHAMPIONS!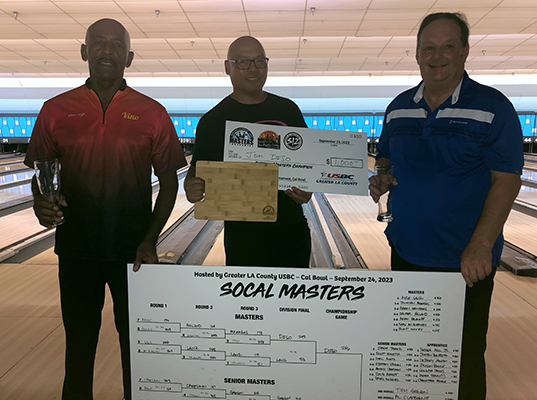 Al Claiborne (Apprentice Champ), Jon Diso (Masters and Overall Champ), Tim Gibson (Senior Masters Champ)
OVERALL PRIZE PAYOUT:
1st place – $1,000
2nd place – $800
3rd place – $600
FINAL PAYOUT
Qualifying Results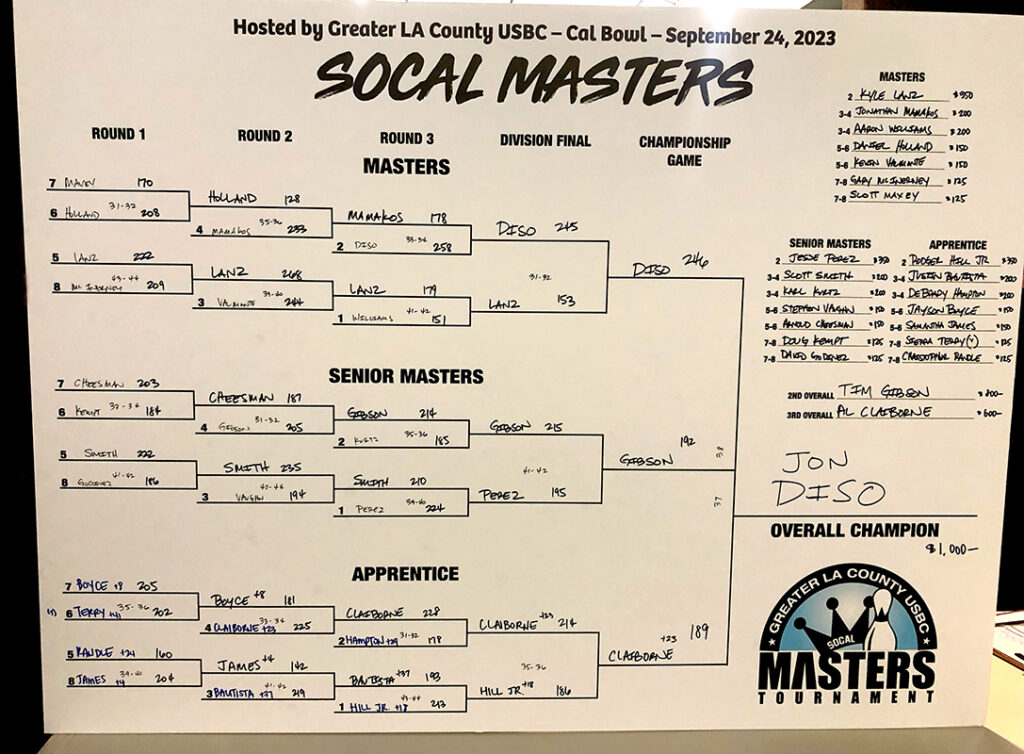 USBC Certified
**THREE DIVISIONS:
• MASTERS (SCRATCH*)
• SENIOR MASTERS (SCRATCH) Aged 50+
• APPRENTICE (HANDICAP*) 204 Average & Under
Handicap: 90% of 205; Max handicap: 50
*Youth aged 13 & up may enter with USBC Scholarship waivers.

---
QUALIFYING: Six games total, moving pairs each game. 
BRACKET FINALS: The top eight bowlers in each division will advance to the Finals bracket. Champions will be crowned in each division.
OVERALL FINALS: The three champions will bowl a one game match to determine the overall champion of the tournament. Handicap will apply for the Handicap champion.